Beautiful Decking for Perth Homes
If you like to spend as much time outside as possible during the fine summer months we enjoy here in Perth, having timber decking installed in your backyard is an excellent idea. A well-designed and well-built deck will provide you with the perfect place for barbecues, romantic meals, parties with your neighbours, or whatever else you fancy doing when the sun is shining and all is well with the world. At Platinum Outdoors, we are very proud of the long list of satisfied customers our custom decking Perth team has and would be delighted to add you to this list in the near future. If you would like to find out more about the different types of decking materials we can supply and the designs we can create, please call to chat to a member of our team at your convenience.
Transforming Your Backyard into a Year Round Entertainment Area
While you are sure to get most use from your new deck in the summertime, you can take advantage of it on a year-round basis if it is designed with care and attention to detail. Some type of cover is essential if you wish to use it when conditions are wet and if you would like to be able to sit outside without freezing when the wind gets up, a floor plan that includes screens around the main seating area and perhaps space for an outdoor heater or two would be worth considering. If you would like any special features such as these included in your deck design, you can mention them to us when you call to request a quotation and we will be sure to incorporate them into the initial plans that we draw up for you to evaluate.
Attractive, Durable and Highly Practical
We have a wide range of timber and composite materials from which you can choose when you hire us to build alfresco decking in Perth. Each material that we offer has been selected by our team of experts not just because it looks good but because it can be used to build a deck that will last for many years and that will provide you with a safe, non-slip surface on which to enjoy entertaining friends and family. Whatever colour and type of material you would like us to use, we will make sure that your decking is as practical as it is visually appealing.
Complementing Existing Features
If you already have a patio area in your backyard, a beautiful flower garden, or perhaps a swimming pool where you enjoy cooling off when the weather is hot, we will take these features into account when we are designing your custom timber or composite deck. We take great pains to ensure that all new decking designs we create complement the existing outdoor features of the properties in which they are to be installed and once completed, your new deck will be sanded, cleaned, oiled and stained to ensure that it
"*" indicates required fields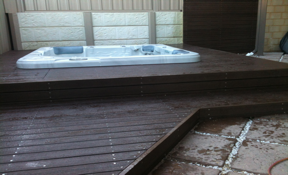 Timber decking is very versatile.  At Platinum Outdoors, we pride ourselves on creative solutions for your outdoors area that look great and are functional, such as this spa surround and decking.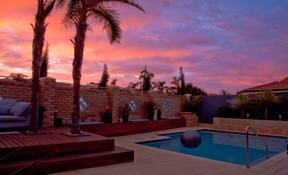 Timber decking adds style and class to your pool area.  Using timber immediately gives your pool a resort-style look and feel, that complements the paving.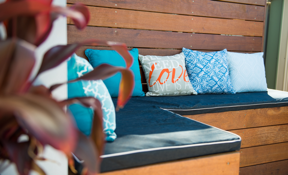 Gets more from your patio
Utilising timber decking in your patio expands the area, by using screens and seating for a very contemporary and functional space.
Do you have ideas for your timber deck?
Then why not get in touch with us to see how we can make it happen for you?  Just click the button >>
See more Perth outdoor building possibilities for your home…
Apart from timber decking, Platinum Outdoors design and build alfresco, patios, and landscaping  that complements your Perth home and lifestyle.  Please continue to browse the website to learn more.