If you are considering an outdoor patio, the chances are high that there is one particular reason strongly drawing you towards the possibility. Whether that reason is for the value, the leisure, or the entertainment, you may not be aware of the plethora of other reasons that make having an outdoor patio in Perth a fantastic idea. Just to give you the full and entire scope, we have rounded up all the best benefits we could come up with that may help you make up your mind to go ahead and start building that outdoor patio of your dreams.
1. The added value
A covered outdoor patio can add so much value to a home that previously had no such outdoor space. While it may be quite the investment up front and those numbers might scare you, you have to consider the payoff. When you decide it is time to finally sell your home, an outdoor patio can up your selling price more than you know. Buyers know how convenient and usable an outdoor living space is, and it's a highly attractive feature when they are looking at tons and tons of houses with not much to help them stand out from each other.
2. The entertainment space
Depending on how you design and stage your outdoor patio, it can turn into quite the entertainment space. For example, consider installing an outdoor kitchen area on the patio. If you are someone who likes to bring the party to your own house, your outdoor kitchen and living space is the perfect place to host a small crowd. In the warmer months, you could cook on your outdoor grill while your guests relax on benches or chairs and enjoy the summer air.
3. The leisure space
If entertaining is not really your thing, maybe lounging is. An outdoor patio can serve as the perfect reading nook, resting area, or hang-out spot for the whole family. The options are endless; it just depends on how you want to fill the space. Add a hot tub to create the ultimate relaxation space. Finding a large round table could make your outdoor patio the perfect spot for a family game night. A barbecue means more outdoor dinners. The aspect of leisure is ingrained into the nature of an outdoor patio, but the specific use can be customised for your needs and desires.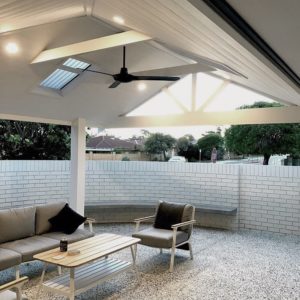 4. It protects you and your furniture
It would be fair to argue that most of the above reasons could still be accomplished with a paved but uncovered patio. While that's true, the covered outdoor patio provides a protection unique to itself. Having a cover over your patio space protects the furniture and equipment you have invested in and put in this space. It's no fun to buy new patio furniture after every storm. An extra safeguard, the roofing aspect will allow you to sit outside and listen to the rain or keep your grill safe from pelting hail. Preserving the patio space will protect the value of it and your home. While bad weather is inevitable, it doesn't have to put a damper on your leisure. Even on days when the weather isn't perfect, your favourite little outdoor spot still will be.
5. It encourages more outdoor time
It's easy to get caught up in staying warm and cosy inside on your couch. During winter or rainy months, staying inside so much can actually cause seasonal depression. Not only is spending time outdoors good for your mood and mental health, the sun can also provide important Vitamin D to you. When you know you have a protected outdoor space at your home, you will be more likely to spend time there. Instead of reading in bed, you may find yourself inclined to read on the patio as the sun sets. Perhaps your morning routine will turn into coffee in your robe on the patio while reading the newspaper instead of rushing to get ready and run out the door to work.
More time outdoors is great for children, too. In today's world, children are bombarded by digital screens and indoor technology. What happened to the days of playing with friends outside or spending time on an outdoor swing set? An outdoor patio could give all you parents a place to relax while watching your children play in the backyard. Maybe they could even convince you to get that swing set after all.
Go for It
Hopefully this roundup of reasons will help you go for it in deciding to build an outdoor patio. If you're ready to take the plunge and are looking for the right company to get the job done, look no further. At Platinum Outdoors, we can work with you to create an outdoor living space to satisfy your vision.