A custom outdoor patio can be well worth the investment in many different ways. Not only will it pay off to you while you live in the house, but it will also pay off during the selling process. In fact, if you are looking for a way to increase the value of your home, building a patio is one of the highest recommended options. Patios have been ranked as one of the top ten features buyers are looking for when shopping for a new house. In addition, over half of buyers said that they would be willing to pay a premium price on a house that includes a patio.
If that alone is not enough to convince you that a custom outdoor patio is worth the investment, we've done our research to help convince you more easily of this.
Making it Worth It: The Benefits of a Patio
Understanding that a patio could increase the value of your home is not the same as it being a worthwhile investment, so let's break down the two major benefits that a patio provides, which together add up to a greater value than the cost of building it.
1. Encouragement of the outdoors
 Having a patio makes a great excuse to spend more time outside. Spending more time like this outside is good for mental health and overall wellbeing. It can improve your mood and improve your life drastically. Spending your morning drinking coffee and reading the newspaper outside could be one way to utilise the space. You could also take a book outside to the patio in the evenings. Having a relaxing covered outdoor space could also mean you parents can spend time watching your children play in the backyard instead of having them glued to a video game or smartphone in the after-school afternoons.
Building a custom patio with a covering will also encourage time spent outdoors when otherwise the weather would not permit it. Sitting outside listening to the rain can be quite relaxing, but that's not possible to do whilst remaining dry without a covered patio. A covered patio means you don't have to call off your barbecue dinner party when there's a drizzle going on. It also means you have a relaxing and safe space to breathe in fresh air and enjoy the great outdoors from the comfort of your own home.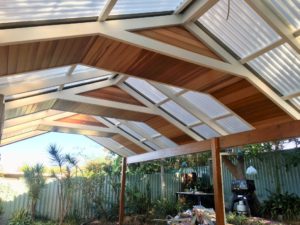 2. Both leisure and entertainment space
Whatever your life looks like, there will be an important use for your custom-built patio. For example, if you have a stressful job and find that you are somehow always busy or on the go, decompressing might be an important component of your life off the clock. If you are struggling to find the right way or space to decompress fully, perhaps an outdoor patio could be that for you. On the other hand, maybe you are a social butterfly who is always planning the next get together for you and your friends. You love groups and parties and want a way to bring the fun times to your house without totally disturbing your home space or overcrowding the kitchen. An outdoor patio could be the happy medium for you: a place for an outdoor barbecue and hot tub to host friends for dinner parties under the night sky. Customising the patio with a beautiful roof will keep you guys dry and protected from any weather, and you won't have to worry about lack of indoor space.
Make Sure It's a Valuable Patio
Any old patio might not add value to your home or pay off with benefits in the long run. It's important while you're customising the patio that you build one that will pay off and increase what your home has to offer.
If you have a huge yard, a small patio might look dinky. On the other hand, a small yard with a large patio will look silly or congested. The lack of green space it would leave would actually decrease the value of your home. Finding a proportional size for your patio in comparison to the rest of your yard will be the sweet spot of both added value and an enjoyable investment.
Another thing to be careful of if you want a patio that truly is a worthwhile investment is not agreeing to a stand-alone structured patio. You want a covered entry from the house so that access is protected and easy. It should be strategically located in front of a door to the back yard. If you don't have a door in that position, you might want to consider adding one as well. If you have yard space and a door on the side of your property, you might be tempted just to build out your custom patio on the side. While you might be close and comfortable with your neighbours, any new buyers might not want to be that close. Keep patios for the backyard to ensure longevity of the investment.
The Right Company to Invest In
Most importantly, finding the right company to invest in means you will have builders that will invest in you. They will want the best for your new custom patio and home value. That's what we at Platinum Outdoors are all about. If you have any questions or are ready to begin your journey to a custom outdoor patio, give us a call.